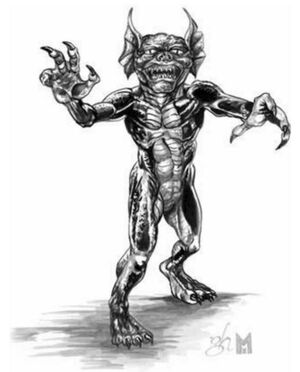 Gremlins are feisty, mean, and aggressive. Even being among their own kind offers no safety. They are impulsive creatures that lack the ability to reason and act rationally. Gremlins can be orgainized to accomplish short term objectives if there is a strong willed leader to subjegate them.
Holy Lands Attributes

INT

Intellect

WIS

Wisdom

PAT

Patience

STR

Strength

AGL

Agility

SPD

Speed

BEU

Beauty

CHR

Charisma

END

Endurance
Holy Lands Abilities

PER

Perception

SRC

Search

CLI

Climb

JMP

Jump

BAL

Balance

HID

Hide
Monster Statistics
Type
Lesser Demon
Number Appearing
1d6+6
Life
2d4+4
Weapon Skills
Combat Bonuses

+2 ADV

+2 ATK

+2 DGE

+2 DEF

+1 DAM

Weapons

1d8 Claws

2d6 Bite

2d6 Thrown

AtR
1
DEF
2
Height
2 ft.
Weight
25 lbs.
Special Attributes

8 AGL

7 SPD

Special Abilities
5 BAL
Exceptional Skills
Saving Throws
+2 Miracles
Spoken Language
Qu'arth
Weakness
None
Immunity
Standard
Magic Abilities

Wall Crawl (constant)

Giant Leap (constant)

See the Unseen (constant)

Valuables
None
Equipment
None
Experience Value
110XP
Ad blocker interference detected!
Wikia is a free-to-use site that makes money from advertising. We have a modified experience for viewers using ad blockers

Wikia is not accessible if you've made further modifications. Remove the custom ad blocker rule(s) and the page will load as expected.