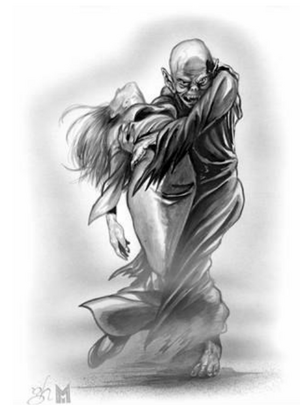 Vampires stalk the night for fresh blood. They hide away in caves and other dark dwellings during the day and hunt at sundown. Along with knowledge of magic, vampires are known for being cunning, patient, and intelligent. Woe unto any who stumble upon this creature in the dark.
Holy Lands Attributes

INT

Intellect

WIS

Wisdom

PAT

Patience

STR

Strength

AGL

Agility

SPD

Speed

BEU

Beauty

CHR

Charisma

END

Endurance
Holy Lands Abilities

PER

Perception

SRC

Search

CLI

Climb

JMP

Jump

BAL

Balance

HID

Hide
Monster Statistics
**(LE Rules: Non-Canon) submitted by
Ad blocker interference detected!
Wikia is a free-to-use site that makes money from advertising. We have a modified experience for viewers using ad blockers

Wikia is not accessible if you've made further modifications. Remove the custom ad blocker rule(s) and the page will load as expected.